The Best Board Games for Young Children!
Endemic parenting is hard. Children are naturally energetic and their curious and growing mind constantly seeks stimulation. With the implementation of home based learning and work from home, it is so easy for us to depend on technology and device to fill our children's time so that we adults can get some quiet time for work. Yet, excessive screen time poses health risks for children - both physical and psychological risks. Excessive screen time increases the risk of developing myopia and can often lead to attention deficit disorder. Hence, setting boundaries on children's screen time are necessary for us to ensure that their daily activities and programmes are not spent entirely in front of the computer. Here's where board games come to the rescue. We can use board games to intentionally schedule dedicated playtime with our children and have at least one device free family activity a day. Here's five board games we think are wonderfully created for children. 
#1 Monopoly Junior
Monopoly needs no introduction. Monopoly Junior is the shorter version of the Monopoly Board Game and makes it suitable for 2 to 4 players and for children between 5 to 8 year old. This old school board game now comes in many variation for children- Peppa Pig, Frozen II. Monopoly Junior is a fun game for more children as they learn how to pass Go, buy properties and collect rent from players who land on their properties. The game is simple - the player who runs out of money wins!
#2 Learning Resource - The Sneaky Snack Squirrel Game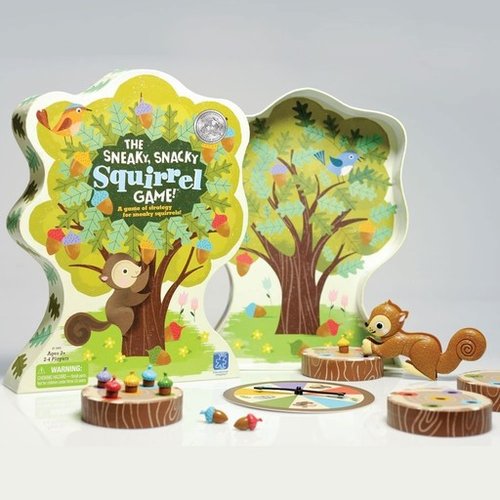 The Sneaky Snack Squirrel Game is suitable for 2 to 4 players and for children between 3 to 6 year old. Every player gets a log with five coloured holes in it. Simply spin the spinner, squeeze the matching coloured acorn with your Squirrel Squeezers or steal an acorn, and place it into your log. Be the first to fill your log with all five acorns and you win! This game requires a little bit of strategy, but will guarantee lots of fun for little squirrels!
#3 Shopping List by Orchard Toys 
Shopping List by Orchard Toys encourages observation and memory skills. It is intended for 2 to 4 plays and for children between 3 to 6 years old. It can also be played on its own. Each player takes a trolley or basket and chooses a shopping list. The shopping item cards are spread out, face downwards. A player begins by turning over a card. If the item on the card is shown on the player's shopping list, the player puts the card in their trolley. If the card is not on the player's shopping list, it must be returned to the table, face downwards. Play passes to the person on the player's left. Play continues until one player has collected all the items on their shopping list and filled their trolley. The winner is the first player to fill their trolley with all the items on their shopping list. The shopping list series also comes with the expansion pack - clothes, fruit and vegetables. 
#4 Race to the Treasure!
Race To The Treasure is one of our favourite cooperative board games for little ones. The idea is to race the Ogre to the treasure by building a path to collect all the keys on the game board. Once the team collects all the keys, they can unlock the door to the treasure, but they must do so before the Ogre reaches the door. Will you race the Ogre?
#5 Bus Stop by Orchard Toys
Who said that learning math has to be boring? This is no ordinary board game. Designed for children between 4 to 7, this award winning game helps teach early addition and subtraction skills in a very fun way. Each player gets a bus board to keep in front of them. They are coloured red, blue, yellow or green and each have a different bus driver. The bus board has 10 empty windows which is where the passengers will be placed. Each bus board also has a matching bus marker and small plastic stand to move around the board. 
All of the players start their bus from the bus depot. On their turn, players roll a dice. The red die shows how far their bus will move (clockwise) around the board. On each space along the road there is either a plus (+) or minus (-) symbol. If you land on a plus then you take on the number of passengers indicated by spin wheel (up to your limit of 10). If it's a minus, the passengers would hop off the bus. Play continues like this until all the players have made a single circuit of the board and returned to the bus depot. At the end of the game, the player with the most passengers on their bus wins.
--- 
If you are looking for new rattan products to store your board games, we have just the right rattan furniture and children toys. What's more, orders within Singapore will enjoy free doorstep delivery for any purchase above $150.